Welcome to St. Demetrios Greek Orthodox Church
The mission of our web site is to provide an instant and accessible forum of information about our parish, its families, our culture and our faith, Orthodox Christianity. It is intended to be educational, informative and spiritual, with the ultimate goal being the spreading of His Word.
We welcome all resident and non-resident Orthodox and non-Orthodox faithful to our church and invite you to join us for altar services, educational programs and events.
St. Demetrios Mission Statement
"To proclaim the Gospel of Christ in the Orthodox Christian Tradition while creating a vibrant, loving, compassionate and supportive community."
Registration is Open for Sunda
y School, Greek School and Greek Dance Classes
Sunday School Registration & Welcome Day is Sunday, September 13, Register Online, Classes begin Sept. 20
Greek Dance Classes begin Monday, September 14, Register Online.
Greek Language Classes begin Wednesday, September 9, Register Today.

Register Online for our NW GOYA Retreat
https://docs.google.com/a/saintdemetrios.com/forms/d/1XcMn9ximYrmLX52t2FH5t-PovL7nB7qzrny3ggYe648/viewform?c=0&w=1

eNews - View our online weekly parish enewsletter
THE ORTHODOX WAY - Our Monthly Newsletter
Great Vespers, Small Compline
& Canon of Preparaton for Holy Communion
Saturday Evening, 5:00PM - 6:30PM
Sundays: Orthros (Matins): 8:15AM - 9:30AM | Divine Liturgy: 9:30AM-11:30AM
PLEASE NOTE: The above service times are subject to change. For the most up to date schedule, please see the Parish Calendar or call the Church office at 206-631-2500.


The Orthodox Marketplace - The official online store of the Greek Orthodox Archdiocese of America

Share the Orthodox Christian Faith with an Iconogram

Find us on Facebook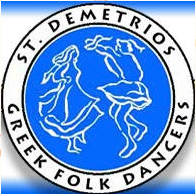 Register for our dance program